REVERSE OSMOSIS WATER PURIFIERS FOR RESIDENTIAL USE.
Our Reverse Osmosis Purifiers are able to make excellent the tap water for drinking and cooking.

The ADVANCED SYSTEMS, has activated for his/her own clients the R-WATER SOLUTION.

The ADVANCED SYSTEMS markets products for the treatment and purification of water for domestic and industrial use. Also performing maintenance on Reverse Osmosis Systems.

REVERSE OSMOSIS SYSTEMS
The Reverse Osmosis Purifiers R-TECH RO6 make use of an osmotic membrane that is able to retain 95-99% of the solid particles dissolved in the Tap Water and 99% of the bacteria present in it.

The cartridges pre-treatment assures limpidity and absence of unpleasant tastes and odors.

The UV Rays device of the Reverse Osmosis System (required as per Italian Standards), the last stage of the sistem, guarantees that the treated water, coming from the accumulation reservoir, will be both hygienically and bacteriologically perfect.

SAFETY AND QUALITY OF WATER
With reverse osmosis and ultraviolet device, which provides a bacteriostatic effect on the water, you'll have safe and quality water at home directly from the tap.

MAXIMUM RELIABILITY
The Reverse Osmosis Purifier R-TECH RO6 is synonymous with safety and reliability.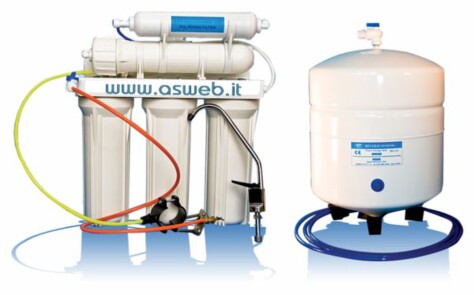 LESS POLLUTION
Avoiding to introduce in the environment plastic bottles and carbonic dioxide generated by the means of transport for their movement, you will contribute to a better and less polluted environment.

THE ADVANTAGES OF REVERSE OSMOSIS
Water of the highest quality from your tap at home


Excellent water for drinking and cooking soups, coffee, tea and herbal teas


No more heavy boxes of bottled water to carry


Water always available with a storage tank of 13 liters


Money saving guaranteed

The ADVANCED SYSTEMS provides an easy solution, practical, economical and ecological naturally, to solve the problem of unsafe drinking water. With this Reverse Osmosis Purifier, you can drink the water from the tap of your home and use it for cooking too.

OUR SYSTEM R-TECH RO6
The ADVANCED SYSTEMS distributes under the sink Reverse Osmosis purifiers for domestic use with 6 stages of filtration. The Purifier Reverse Osmosis R-TECH RO6 is so composed:

1 - PP fiber filter
2 - granular activated carbon filter
3 - activated carbon filter blocks
4 - osmosis membrane (0.0001 microns)
5 - carbon filter coconut
6 - UV lamp

The RO purifier is equipped with a storage tank of 13 liters.